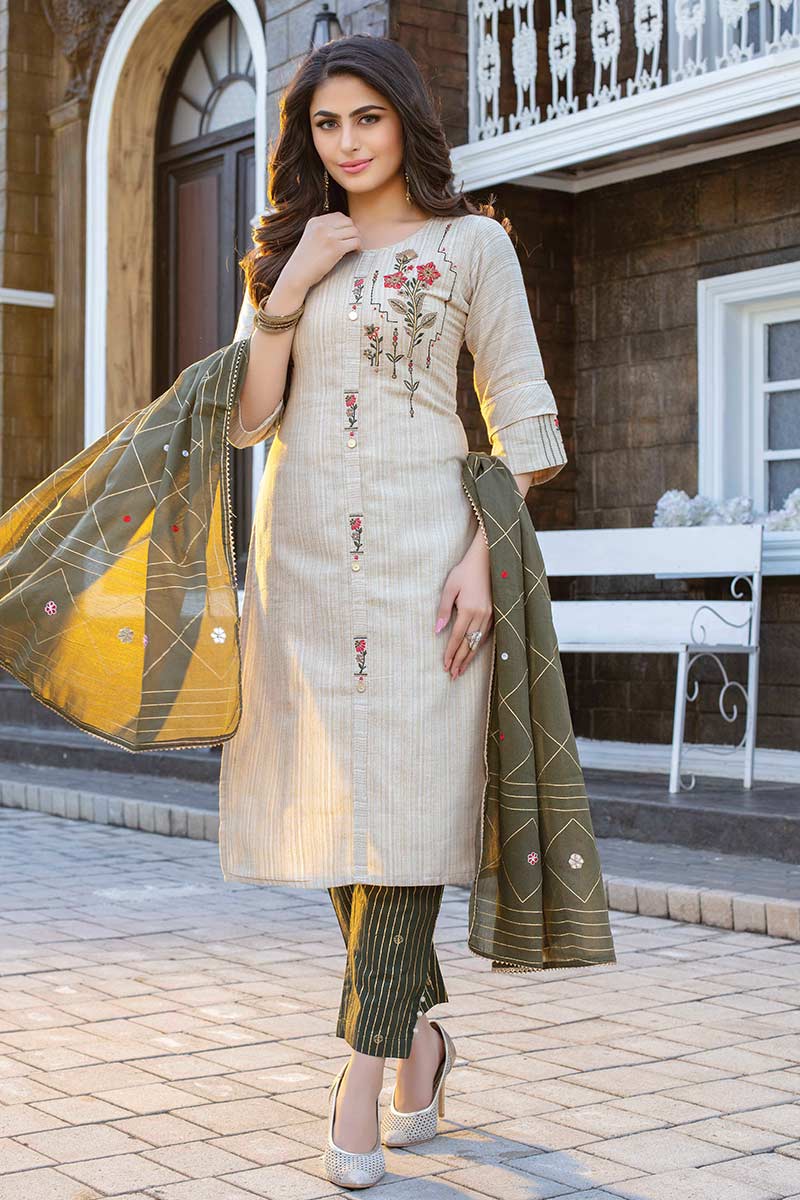 For ladies who take pride in their traditional roots and also appreciate contemporary fashion trends, there can be no better outfit than an elegant kurti set! Considering how busy and fast-paced our lives are these days, it becomes essential for us to stock up our wardrobes with clothes that are comfortable as well as stylish. You can purchase a trendy kurti set online and add this versatile ensemble to your personal collection at the click of a button! These chic sets will keep you going from the break of dawn till the dusk sets in, without once dulling your sparkle!
Following are some of the best kurti sets that you can adorn to keep shining all day long!
Be it floral prints, block prints, or geometric prints – these whimsical patterns add the right amount of drama to your everyday get-up and help you make an unforgettable statement. A stunning printed kurti set will not only lend you a dignified appearance that is ideal for the workplace, but it can also transform into the perfect casual outfit for an outing with friends later in the night!
Embroidery is one of the most timeless design techniques that has fascinated women for ages! Crafted with minute attention-to-detail, embroidered kurti sets are simple enough to be worn in a formal set-up, yet glamorous enough to be adorned for an evening summer party. Showcase your love for intricate designs by opting for these resplendent sets. 
An incredible daily wear outfit, solid kurti sets speak the language of minimalism and elegance. Ditch your tops and jeans and run your everyday errands with absolute grace by wearing this sublime ensemble. High on comfort and style, this simple yet delightful kurti set will please your minimalistic soul! Go from AM to PM in complete confidence in these fantastic sets. 
A classic design that has been around for decades, stripes will never go out of style! Whether it is a kurti set or a salwar suit for women, these lovely patterns can instantly amplify your daily attire's charm. Kurti sets featuring horizontal stripes can help ladies with a petite frame appear fuller, while sets adorned with vertical stripes make plus-size women look taller and slimmer. Be it an office meeting during the day or a cocktail dinner at night, this ensemble never disappoints!
Oozing with elegance, A-line kurti sets exude a simplistic charm that is loved by one and all. Offering flattering silhouettes that make every woman look gorgeous, this ensemble is not only a great option for formal wear, but it is also a fabulous choice for attending a party after work hours!
During moments of confusion regarding what to wear, a straight-cut kurti set is your safest bet! The best thing about this ensemble is that it suits women of all body shapes and sizes.
All these exquisite daily wear kurti sets cater to the budgets of different women. You can also shop online for brand new pieces in salwar kameez or the latest sarees with price ranges affordable to all.